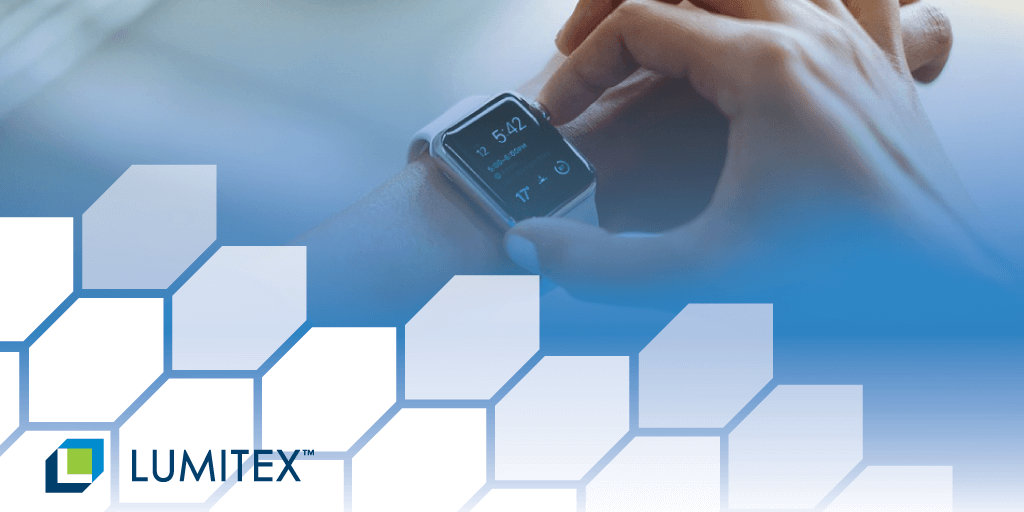 I think you'll agree with me when I say:
The wearable tech market is alive and thriving. As a matter of fact, fitness trackers and smart watches are hotter than ever according to figures released by the International Data Corporation.
Statistics released from the IDC state that last year came to a close with 102.4 million devices shipped. "The worldwide wearables market reached an all-time high as shipments reached 33.9 million units in the fourth quarter of 2016, growing 16.9% year over year."
Like many, you might be asking yourself:
What is wearable technology today? 2016 proved there is more to wearable electronics than the wrist-worn devices.
Who is wearing them?
How are they evolving?
Who are the top vendors?
Wearable technology is more integrated with us and can either capture data, present data or both.
Wearable Technologies, an innovator when it comes to technologies worn close to the body, on the body or in the body, wrote an article on exactly how Wearables Can Save Lives.
The piece covers fitness trackers, fashion accessories, a health monitoring implants and other potentially lifesaving devices. As an engineer, you are taught to build a solution to someone's daily pains; they discuss a list of conceivably lifesaving wearable devices to accomplish just that.
This article intends to help educate you on wearable technology and "wear" it is headed, a review of the best fitness trackers in 2017 and how it can possibly clue you in to a life-threatening condition.
What is Wearable Electronics
By definition, wearable technology, wearables, fashionable technology, wearable devices, or fashion electronics are smart electronic devices (electronic device with microcontrollers) that can be worn on the body as implant or accessories. The designs often incorporate practical functions and features.
Devices can range from wrist wear, smartwatches, and fitness bands. To head wear; smart glasses and virtual reality googles, to "smart" bodywear.
Smart wearables can be worn on the body and have the ability to connect to the internet, enabling data to be exchanged between a network and the device.
The applications are endless...
World of Wearable Technology Applications
The market is varied. Sectors include security safety, medical, wellness, sport/fitness, lifestyle computing, communication and glamor.
"All wearable technology, which includes smart watches, fitness trackers, VR headsets and more, generates a ton of data that businesses are just beginning to understand the possibilities and potential applications for."
Look:
Everyday objects that can be connected to the internet and be recognized by other devices and contribute information to a database are here to stay and are examples of the Internet of Things (IoT).
Kevin Ashton, digital innovation expert who is credited with coining the term, defines the Internet of Things in this quote:
"If we had computers that knew everything there was to know about things—using data they gathered without any help from us—we would be able to track and count everything, and greatly reduce waste, loss and cost. We would know when things needed replacing, repairing or recalling, and whether they were fresh or past their best."
Internet of Things

- What happens when the physical world (as in real world) comes online and becomes very "smart"?
Elizabeth Gasiorowski-Denis, member of ISO (International Organization for Standardization) wrote an article, How the Internet of Things will change our lives.
"Soon every device you own – and nearly every object you can imagine – will be connected to the Internet. From 'Smart Appliances' to the 'Smart Factory', we will have better information, more control and insight into the everyday things that we need to function, both known and unknown."
loT, for example, even promises to bring to the automotive industry changes that we can't predict yet and is already influencing how carmakers build their vehicles and how they think of the future of their products.
Image credit: By Michael Sheehan (Dash & Steering Wheel) [CC BY 2.0 (https://creativecommons.org/licenses/by/2.0)], via Wikimedia Commons
The Internet of Things (loT) has the power to change the world and life.
There are new devices that can offer useful insights into your health.
Look How Fitbit Heart Rate Data Potentially Saved This Woman's Life
A Fitbit fitness tracker possibly saved a Connecticut woman's life according to an article published on Gadget's & Wearables.
"If I didn't have a Fitbit on my wrist, I would never have known that my heart rate was getting dangerously high".
She later discovered through testing, two blood clots known as pulmonary embolisms. Left untreated she may have actually died. She credits her fitbit for saving her life.
Similarly data collected from a man's fitbit might have saved his life.
"Using the patient's activity tracker in this case - we were able to pinpoint exactly when the patient's normal heart rate of 70 jumped up to 190," said Dr. Alfred Sacchetti.
Let's take a closer look at wearable electronics ...
Review - Best Fitness Trackers 2017
There are so many wearables on the market it really depends on what you're looking for...
best for wellness?
heart rate tracking?
losing weight?
All those have insights for your well-being.
What about:
style? simplicity? and the budget conscous?
Here's a list of questions to ask yourself before you purchase your first or next wearable:
Top 10 Things to consider if buying a fitness tracker in 2017
What is your budget?
What do you want to track?
Is the design appealing?
Do you need a color display?
Is it a seamless user experience?
How long is the battery life?
Do you need GPS?
Is it water-resistant?
Is there a heart rate monitor?
Are there smart notifications?
Wareable is a go-to resource to stay on top of the wearable world.
Checking in with 2017's gamechangers
They touch on hearables, stress-busting wearables (to get you back into a calm state) and Google's mobile VR platform.
They also held their inaugural "Wareable" Tech Awards split by category of the best wearable, VR and smart tech of the year. The nominees were chosen for features, accuracy and style. As well as a trusty wearable that will make you faster, better and stronger.
The categories included:
Fitness Tracker
Smartwatch
Sports Wearable
Health and Fitness Platform
Fashion Tech Collection
VR Headset
VR Experience
Hearable
Smart Home Platform
Start up of the Year
Saves the Day Project of the Year
According to Forbes, the Apple Watch 2 took the wearable tech of the year award.
"The Wareable Tech Awards celebrated a full-throttle year for amazing devices and breath-taking experiences in the wearable and connected-self space", said Wareable's Editor-in-Chief, Paul Lamkin. " From the refinement of smartwatches and fitness trackers to emerging tech like hearables and smart clothing, not to mention the VR revolution, 2016 has been a year of non-stop innovation."
Taking home the main prize, Wearable of the Year, was Apple Watch 2 - the next generation of Apple's first wearable which got a big upgrade this year with built-in GPS, a fast dual-core processor, and is now water resistant up to 50 meters.
Apple Watch 2 also took home the award of Smartwatch of the Year.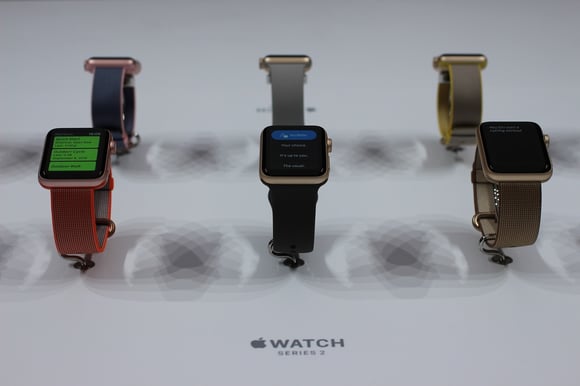 image credit: By Maurizio Pesce (Apple Watch Series 2), via flickr
You can read additional reviews with buying guides and helpful tools to help you wade through the growing sea of devices.
Getting Deeper: An Inside Story on Wearable Electronics
"Researchers want to wire the human body with sensors that could harvest reams of data - and transform health care."
Sensors woven into the body are a natural extension of handheld smartphones and wearable devices, says John Rogers (scientist at the University of Illinois).
He continues...
"I think electronics is coming at you. It's migrating closer and closer and I think it's a very natural thing to imagine that they will eventually become intimately integrated with the body."
"Sensors injected under the skin can access the trove of information carried in the blood by chemical signals called biomarkers."
Conclusion
Let's state the obvious...
The wearable electronics / tech market will continue to be driven by the most popular categories which currently are - smartwatches and wristbands.
As stated in Forbes, "IDC sees the smartwatch market (which includes hybrid watches and fitness/GPS watches) climbing from 71.4 million in 2017 to 161 million in 2021; and the wristband segment increasing from 47.6 million to 52.2 million in the same period."
If you find your self in need of technology that enables more vibrant electronics, let me know.
Have any other questions? Leave us a comment below.